The Wheely Big Show! 6-10 a.m.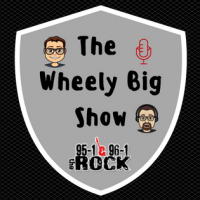 What can we say other than it was "destiny" that brought Wheels & Biggie together, and it was the best lap dance either one of them have ever had.  Getting up to head to work is the worst part of the day but The Wheely Big Show aims to make it a little more tolerable.  Informing listeners of all the regular things that you're supposed to do in a morning show, but also providing a little insight to the personalities that are Keith "Wheels" Heisler and Jason "Biggie" Mansmith.  Throw in random bits of worthless information, celebrity and guest interviews, and the best rock known to man and it's still a mediocre attempt at radio!  Hey but thanks for listening anyways.  Available on the radio, online, mobile device or on your digital personal assistant (Hey, Alexa…Ok Google!).  Rock on \m/
Join Wheels & Biggie weekday mornings from 6 a.m. to 10 a.m.
The Best of The Wheely Big Show Saturday mornings from 6 a.m. to 10 a.m.