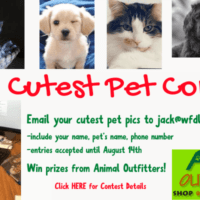 Every pet owner thinks their pet is the cutest…now Sunny 97.7 and Animal Outfitters are giving you a chance to prove it. Starting July 20th and going until noon on August 14th, you have the opportunity to enter a photo of your pet in our Cutest Pet Contest. All you have to do is email the cutest pet picture you have to jack@wfdl.com 
Starting August 15th, it will be up to YOU to pick the cutest of the cute pets. We will post the top 10 on our Facebook page and leave the rest of the voting up to you!
1st place wins a $100 Gift Card from Animal Outfitters and $100 CASH!
2nd place wins a $50 Gift Card from Animal Outfitters!
3rd place wins a $25 Gift Card from Animal Outfitters!
Winners announced August 31st!
Entries MUST include full name of owner, phone number and pet's name; all pets entered must be living.
-Locally owned and operated.
-Serving the pet loving community of FDL for almost 19 years.
– Catering to the health and happiness of dogs and cats.
-Everything you need to spoil your four-legged companion
-Excellent customer service
-Knowledgeable friendly staff