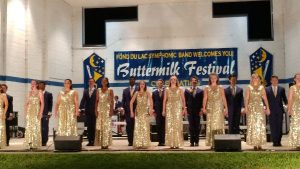 The Kids from Wisconsin will return to Fond du Lac for their 25th  annual free appearance at Buttermilk Creek Park on Wednesday, Aug. 14 at 7:15 p.m.  The Lighthouse Big Band and the Fond du Lac Area Children's Chorale will entertain prior to the Kids' performance, beginning at 6:00 p.m.
With the theme "The Beat Goes On," the Kids' 51st  season features music that has stood the test of time. Music of living legends such as Billy Joel, Tina Turner, Cher, Queen and Gershwin will be featured, and the band will shine in tunes by Doobie Brothers, Festival Di Ritmo, Super Heroes and more.
Since their first performance in 1969, the Kids from Wisconsin show troupe has performed at state and county fairs, festivals, national trade shows and conventions. Their travels have taken them to many hometown stages as well as distinguished stages such as the Kennedy Center in Washington D.C., the Performing Arts Center in Milwaukee, Cabo Hall in Detroit, the Convention Center in Atlantic City, and the Canadian National Exhibition. Selected through a rigorous audition process, troupe members not only perform to thousands over the summer, but are trained to provide hands-on, performing arts workshops in many of the communities they perform, helping to spread the love of performing to youth ages 7-13.  This year's troupe includes vocalists Catlyn Mahoney and Holly Meyer and pianist Jasmine Maller, all from Mayville; vocalist Miranda Park from Hartford; and Alex Turicik from Plymouth on guitar.  A food concession, serving sandwiches, soda and desserts, will be available from 6:00 p.m. on. In the event of bad weather, the concert will be moved to the EXPO Center at the County Fairgrounds.