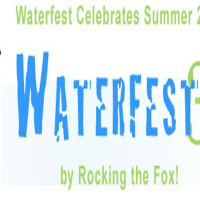 WHAT HAPPENS AT  WATERFEST?
We enjoy our beautiful Wisconsin summer with the companionship of family, friends and associates in a park-like setting on the Fox River…
Most of all, we are treated to an outstanding line-up of Jazz, Pop, Rock, R&B, Blues and Roots Music.
Some 2,500-7,500 fans may be in attendance on any given evening. We are prepared to greet 30,000 guests or more during the 8 evenings of entertainment.
The downtown patios, beer gardens and clubs bustle before and after the event, so come early and stay late! The Park and Riverfront welcomes boaters and tailgaters who picnic before and during the event. The Amphitheater gates usually open before 6PM and as early as 5PM. Music generally starts a few minutes after the gates open and never runs past 11pm. Waterfest beats the heat and those summer re-runs! Enjoy for family and friends at a great event!