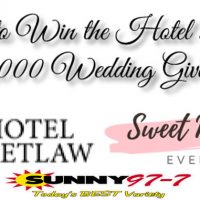 INTRODUCING THE $25,000 DOLLAR HOTEL RETLAW WEDDING GIVE AWAY…PRESENTED BY SUNNY 97-7 AND SWEET AND EASY EVENT PLANNING…HERE'S HOW YOU CAN WIN…
TELL US YOUR LOVE STORY IN 97 WORDS OR LESS TO ENTER IN A RANDOM DRAWING TO TAKE PLACE ON VALENTINE'S DAY… OUR WINNER WILL RECEIVE A WEDDING PRIZE PACKAGE VALUED AT AROUND $25,000…INCLUDING HOTEL RETLAW OVERNIGHT STAYS,  WEDDING DINNERS, AND WEDDING PLANNING/COORDINATION FROM SWEET AND EASY EVENT PLANNERS.
PLUS PRIZES FROM THESE SPONSORS:
EDITH'S BRIDAL + TUXEDO JUNCTION
RECORD ENTERTAINMENT DJ SERVICE
LIGHT OF DAWN PHOTOGRAPHY
BLESSED BEE CUPAKES


TOON UP BY ROY-CARICATURES

WOODS FLORAL AND GIFTS
KRYSTAL KLEER ICE SCULPTURES
NEHRING LIMOUSINE SERVICE
MARGO VIDEO
CEREMONY MUSIC-PIANIST WENDY PELLETIER
COCKTAIL MUSIC – NOAH GOEBEL AND TRAVIS WIRTH
*Some restrictions apply. Employees and family members of  Hotel Retlaw, Radio Plus, and Sweet and Easy ineligible. Entry deadline January 31, 2019. Limit one entry per engaged couple per contest period. 
Random drawing will take place live on Sunny 97-7 from Hotel Retlaw on February 14, 2019
Prize package subject to change without notice. Winner assumes any financial obligation to vendors not covered within the prize package.