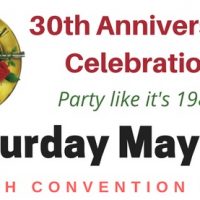 It's a little-known fact, but it's actually true.  Fresh off the release of their debut album and after making a name for themselves on the infamous "Sunset Strip"; Los Angeles' hottest new rock band Guns N' Roses performed live at the Convention Center in downtown Oshkosh, WI in the Spring of 1988.  A few months later, the notorious group released the soon to be number one single "Sweet Child o' Mine" and over 100 million album sales later, the rest as they say, is history. 
To celebrate the 30th anniversary of the historic show, on Saturday May 19, 2018, the Best Western Premier Waterfront Hotel is hosting one of the world's best tribute bands:  Gun Sin Roses!  Taking place in the same room and on the same exact stage Guns N' Roses played on 30 years earlier.
  Tickets are on sale now at oshkoshwaterfronthotel.com, $12 in advance, $15 day of show.  It will be a night of nostalgia and fun as concert goers are encouraged to dress like it's 1988.  Everyone attending the event in costume will enter a free raffle for a future stay at Oshkosh's #1 Rated Hotel on TripAdvisor®, the Best Western Premier. 
 A portion of proceeds from ticket sales will be donated towards medical bills and everyday living costs for Oshkosh resident "Scuba" Steve Bathke.  Seven months after he and his wife Crystal gave birth to twins, Steve was diagnosed with stage four colorectal cancer.  The Best Western Premier Waterfront Hotel will donate a percentage of each ticket sold to assist Steve and his family in offsetting medical costs.