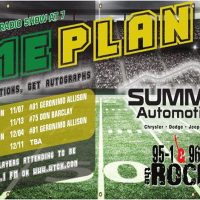 Join us for another great year of The Summit Automotive Game Plan Presented by Midwest Overhead Door at Fat Joe's Bar and Grill!
Get face to face with Green Bay Players. You'll have the opportunity to get autographs* and pictures*!
Win reserved spots for four by heading to Ray's TV and Appliance in Fond du Lac on Pioneer Road! Fill out an entry form and place it in the drawing box. The week before the show Mike from Ray's will pick a winner!