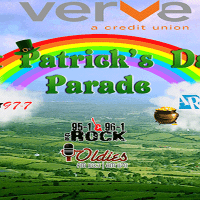 Verve, a credit union Presents the 2017 St. Patrick's Day Parade:
2017 Join us Saturday, March 11th, 2017 at 3:00 pm for the St. Patrick's Day Parade in downtown Fond du Lac. There will be lots of great floats and fun! Come see who wins the 95.1/96.1 The Rock and Irish's Traveling Trophy!
The parade will start at Rees and Main Street then proceed to Veteran's Park on Main St. and Western Ave in Downtown Fond du Lac.
There will be a $100 cash prize for the "Best of Show" entry and for "Best Youth Entry"!
Sign up your group or organization up right now! Click here to get your entry form!
Send it to:
95.1/96.1 The Rock
210 South Main St.
Fond du Lac, WI 54935.
Or Email your entry form to drew@wfdl.com
– See more at: http://www.radioplusinfo.com/2017/01/20/st-patricks-day-parade-2017/#sthash.EL56Zmwh.dpuf