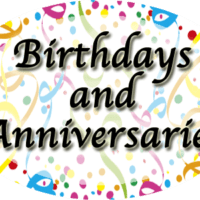 May 2
Levi Lenz-14
Pat and Howard Majaras-Happy 39th Anniversary!
May 3
Koud and Jenny Vang-Happy 17th Anniversary!
May 4
George and Carol Bera-Happy 36th Anniversary!
May 5
Jay Testonlin-59
Sue Haefemeyer
Blake Badtke-20
Lois Kuechler-65
May 6
Rusty Rademann
Taylor Ryan-18
Heather Reader Schubert-40
May 7
Wyatt Abraham-5
Russell Guelig
Nick Tagliapietra-18
Kim Wagner
Ashley Salter
Hiedi Zivcovich-Happy Belated Birthday!
Addie Mullenbach-11
Nicki Batchelder-40
May 8
Holy Hicken-17
May 9
Hannah Wilson-14
Debra King-66
Tucker-Dalton-Happy 8th Birthday from Grandma and Grandpa
May 10
Bob and Betty Hungerford-Happy 68th Anniversary!
May 11
Talia Erdman-15
Brenda Spranger
Tracy Hochrein
Adam Stager-11
May 12
Joe Blackburn-42
Josh Warner-28
Joe and Diane Wagner-Happy 25th Anniversary!
Haley Birschbach
Carrie Pierquet
Blake Badtke-Happy Belated Birthday!
Mike Stienke
May 13
Wells Werdin-4
Angel Thieeke-47
Viviana Magolski-4
Jerry Aspatore-85
Brian Baker
May 14
Jenny Rail
Carol Goebel
Vada Narbatovics-7
May 16
Nolan Blackburn-14
Lisa Ackerman-Happy Birthday and thanking her for her service
John Meier
Paul & Andrea Scannell- 5yrs!
May 17
Robert James-37
Keri Twohig
Rachel Vaughan-28
Timothy Kraus- 8
May 18
Jerry and Jean Aspatore-Happy 63rd Anniversary!
Skyler Lucas-Happy Belated 22nd Birthday!
Mark Homan-Happy Belated Birthday!
Dan and Jill Mayer-Happy 24th Anniversary!
Henry Daniels-8
Steve Flood-34
May 19
Dakota Baker
Keegan Michels-6
Steve Flood-Happy Belated 34th Birthday!
May 20
Gayle Luhn-Happy Retirement age Birthday
Andrea Nuss-41
Sara Webschall-42
Mary Halfman-Happy Belated 50th Birthday!
Richard Nuss
May 21
Robert Kovacs
Jim and Stacy Livieri-Happy 26th Anniversary!
Annabelle Kraus-6
Shaun St Mary-Eden
Michael J Pierquet
May 22
Todd Wondra-41
Tom King
Jordan Sterk
Connie Millard
Dawn Bertrum
Judy Zwike
May 23
Sheila Piccione
Carson Petrie-6
Craig Lehner-32
May 24
Debbie and Randy Gorski-Happy Anniversary!
Debbie Gorski
May 25
Erin Murphy
Rebecca Santy-36
Lilly Rusch-7
May 26
Olivia West-9
Paul Flood-Happy Belated 30th Birthday!
Jen List
May 27
Julie Gordy Vaughan-31
Paxton Brester-5
Harper Miller-2
Trey Zivkovich-6
Sara Kaiser
May 28
Mike Fedyszyn-38 (Band Director at Bessie Allen Middle School)
Janet Stephany-Happy Belated Birthday!
May 29
Ivan Martinez-1
John Pelletier-35
Annie Wagner-31
Dawson Wyrobeck-19
May 30
Jeff Hopper-68
August 29
John Waterworth – 65