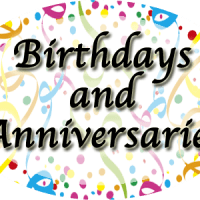 October 29
Henry and Jess Wagner-Happy Anniversary St. Cloud
Holly Sinotte-31
Hossen Farala-53
Cade Brennen-19
Marley Deiner-1
October 30
Mike Hilbert-60
Jenna Rhein-36
Jake Buerger-24
Meghan Becker-Byron
Chris Olson-Fdl
Caitlyn Teichmiller
Kristen Schmitz
October 31
Aliah Mason-17 Brownsville
Naleeta Madder
Tanya St. Mary-Eden
November 1
Rebecca Frize-41
Addison Brester-Happy 9th Birthday love Grandma and Grandpa
Bob and Dorothy Meyer-Happy 66th Anniversary!
David Gau-Happy Belated 71st birthday!
November 2
Sue Ennis-55

November 3
Tim Dix
Andrea Blackburn-30+
November 4
November 5
Johnathan Schmitz-Happy Belated 19th Birthday!
Joan (Glass) Grahl-85
Julia Barta-Happy Belated 50 Something!
Troy and Polly Nachreiner-Happy 13th Anniversary!

November 6
Jeff and Christine Christie-Happy 24th Anniversary!
November 7
Shaun sinotte-28
Larry Sipple-57
Keith Ghanian of Countryside Auto Group
Blake Tonn of Tonn Pest Control
Judy Flesch-55 (speed limit)
Karla Kohlman-St Peter
Abdus Aslum-22
Albert and Christine Sesing-Happy 20th Anniversary!
November 8
Allie Costello-2
Terri (Auntie) Willis-52

Joel Bernard of Confections For Any Occasion
November 9
Kerian Krug-Krug Gentleman's Haircuts
Scott Roberts-42
Olivia Blessing-8
Henry Norman Wagner-St Cloud
Tracy Mason-43
November 10
Heather Goldapske-34
Jon Schadeberg & Gretchen Stutz- Congratulations on Your Wedding Day!
Julie Wilson-60 Shut up and Dance
Gary Batterman-63
November 11
Ella Heisler-4
November 12
Breanna Sinotte-25
Meg Frieberg-22
Brandon Edler-18
Hallie Galloway-Happy Belated 30th Birthday!
November 13
November 14
Curt and Julie Patroullie-26
Toni Nuss
Brent Adler-14
Christie Warner
Hannah Sawyer-Happy Belated 14th Birthday!
Andrea Scannell-Armstrong
John Petrie-60 St. Peter
November 15
Mary Pierquet-Campbellsport
Justus Trewin-25
Tanya Vogds-43
Ann Trewin-Aged To Perfection!
Gordon and Helen Rose-Happy Belated 65th Anniversary!
Brad Trewin-53
Matt and Ramsey Immel-Happy 3rd Anniversary
Jeffery Kline-40!

November 16
Mary Bick-Campbellsport
Melissa Schofield-Fabulous 40!
Carson Radditz-The Big 18!!
November 17
November 18
Marv Thurow-83
November 19
Christopher Cormack-39
Cole Ewerdt-14
November 20
November 21
November 22
November 23
November 24
November 25
Gage Ewerdt-21
November 26
November 27
November 28
Fred Willis-73
David Gau-71

November 29
Don Blatz-61
November 30