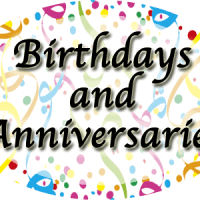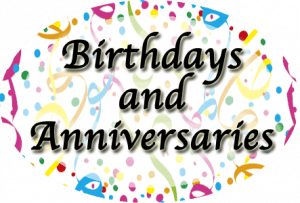 May 1
Jenna Goebel-Happy Belated 27th Birthday!
Natalie Shannon-7
Trevor Hernandez-13
Jesse Wuest – 47
May 2
Jeremy Hanson of Siding and Trim Specialists LLC
Michael Schaefer-18 Oakfield
Maggie Barr
May 3
Peggy Mietzel-58
Mike and Steph Ramthun-10th Anniversary
John Francis Diaz-1
May 4
George and Carol Bera-Happy Anniversary
Tanner Mathers-18
May 5
Julie Haase – 53
Amber and Scott Wiese – 6th Anniversary
May 6
Betty Smith-Would have been 82. Missed dearly
Taylor Ryan-16
Sophia Mathos-8
Heather Reader-Schubert-38
May 7
Happy Belated Birthday to:
Jane Hurst-83
Marcella Jaeger-97
Lois Kuechler
Today:
Wyatt Abraham-3
Steve Kornelli
Vidia Ellayah – 64
Russell Guelig-Eden
May 8
Morgan Flaherty-Happy Belated 15th Birthday
Bobby Kebble-12
May 9
Niki Whitty-30
May 10
Tucker Dalton-Happy Belated 6th Birthday
Sandra Halbur-From your cardio buddies at Agnesian
Amber Johnson-13
May 11
Mary Alice Guelig-Happy Belated Birthday
Tracy Lynette Shea-St. Cloud
Casey Schwartz-30
Brenda Spranger
May 12
Joe Blackburn-40
Carrie Pierquet-Dotyville
Michael Steinke-69
Josh Werner-26
May 13
Braelyn Lewis-11
Viviana Magolski-2
May 14
Ella Steffan-10
Chris Cook-55
Adam Rosenau-21
May 15
Scott and Kelly Huck-Happy 25th Anniversary
Skylar Lucas-22
Gerri Parker-89
May 16
Nolan Blackburn-12
John "Wrench' Meier
Karen Neisius-63
Paul and Andrea Scannell-3 years and still 'mokeying' around
David Roseneau-28
Steve Holzman
Amanda Holzman
Jessica Serway
May 17
Heather and Tim Cratchy-Happy 15th Anniversary
Jerry and CeCe Jordan-Happy 38th Anniversary
Jodi Steffes
Mark Homan
May 18
Weston Goldapske – 7
Margie Jackl-70
Dan and Jill Mayer-22
Timothy Krause-Happy Belated 6th Birthday
Marvin Priest-Happy Belated 94th Birthday
Aaron Flannery-23
Ramone Granata-Love you-From whole family and Berta
May 19
Collin & Katie Marshall- Congratulations on Your Wedding Day!
Franki & Eli Martinez- Congratulations on Your Wedding Day!
Jaynand Ootim-60
Mitch and Donna-Happy 40th Anniversary
May 20
Brian Holzmann
Brian & Nichole Holzmann- Happy Anniversary!
Andrea Nuss-39
Chris and Bridget Hebenstreich-Happy 2nd Anniversary!
May 21
Annabelle Kraus-4
Ashley Testolin-30
Marilyn Abraham-60!!!!!
Travis Terbeest
Braden Lawson
Mike Pierquet-40
May 22
Jim and Staci-Happy Belated 24th Anniversary
Todd Wondra-39
Connie Millard-52
Camren Butzen – 7
May 23
Blake Shannon-5
Judy Zwicky-59
May 24
Jeveen Ootim-27
May 25
Lilly Rusch – 5
Nick Dudarenke
May 27
Steve and Tristen Manowske – 2nd Anniversary
May 28
May 29
Holly Snyder-28
May 30
Dave Schrage of Schrage's
May 31
Jeffery and Abby Vree-Happy 'Sweet 16' Years of marriage
Steven Knuth of TNT- 26