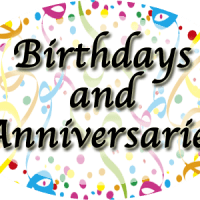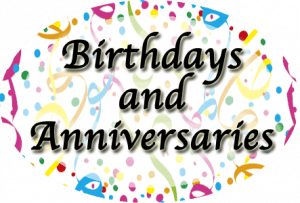 August 1
Jay Weiland-70
Rose Anderson
Dan Mayer-Eden
Joel Zerbel-Summit Automotive
August 2
Ike Holzmann-18
Faye Twohig-60-Really, no way!
Jane Frederickson-Happy Belated Birthday
Tom Hoephner-Happy Belated 50th Birthday
Doug Kohlman of DR Kohlman
Neal Feller-51
August 3
Jack Burns-Happy Belated 11th Birthday!
Wade Fletcher of Hogz & Honeez
August 4
Kim Dambrunch-Older than dirt
Gio Gonzalez-10
Jamie Reilly-13
August 5
August 6
Eric Gerlach-Happy Belated 44th Birthdays
Amarach Checolinski-Happy Belated 13th Birthdays
Chrissy Doyle-Way younger than Kim
Noah Schoenbach-17
Jocelynn Culshaw-60
David Linstrom
August 7
Harper Flood-Sweet 7
Andrea Nuss-48
Jeff Westphal-50, acts 30
August 8
Jocelyn Culshaw-Happy Belated Birthday!
Karen Martin-Happy Belated 38th Birthday!
Leslie and Corey Jeffers-Happy 9th Anniversary
Lily Mason-9
Tim Burns-15
Jerry and Patty Krause-Happy Anniversary
August 9
August 10
Mara Nachreiner-7
Andy Rug-43
Nick Dalton-34
Colleen Ahern-Closing in on the big one!
Jane Meier-Last year in the "50's" club
August 11
Lesley Manaowske-52
Mara Nachreiner-7 (celebrating two days in a row!)
Quinten and Mason Enfeldt-Happy 14th Birthdays!
Katherine Shermer & John Ludack- Congratulations on Your Wedding Day!
August 12
Leo and El Frieda Goebel-65
Sandy Thern-67
John and Betty Meier-Happy Anniversary, from Eden
August 13
Mark and Jean Homan-Happy Belated 24th Anniversary
Intish Howlodhur-31
Andie Gerlach-45
Mocha Bean-6
Kali Riegert-7
August 14
Joan Thurow-81
Mark Verran-57
Alex Mason-19
Mark Verran-57
Ann Salm, Chris Rieger and Marty Riegert-46
August 16
Ella and Ashton Kuechler-Happy 2nd Anniversary
August 17
Cassey Krueger-32
Carter Bell-9
August 18
Mitchell Smith-26
Megan Ryan-17
August 21
Nicholas and Jackson Rentmeister-Twins-11th Birthdays
Donna Peachy-72
August 22
Kristina Rentmeister-47
Diane Johnson-26
August 23
August 24
Kyle Wondrash-52
Sarah Wuest-42
August 25
Ruth Dudarenke-Way younger than Kim
August 26
Amber Pelletier-18
August 28
Mike and Marlene Hilbert -36th Anniversary
August 30
Jill Stoffel-Way younger tan Kim
September 1
Rose Anderson
David and Christine Miller-Happy 21rst Anniversary